I'm a long way from Tuscarora, about 200 feet in the air and 5,000 miles from the nearest sagebrush.
To my right, thickly jungled mountainsides lunge up into a sky clabbered with slow-moving clouds; to my left, the Atlantic Ocean heaves itself ceaselessly against a broad sandy beach the color of honey. A couple of two-man teams are playing volleyball with only their feet and their heads. Below, a busy boulevard channels an iron tide of traffic — complete with police sirens — to and from the center of the city.
I'm visiting Joe Conforte, the once upon a time proprietor of the Mustang Ranch, the most famous whorehouse in all America, maybe the world. He was born into poverty in a small fishing village in Sicily, now he lives like a king in his penthouse apartment in Rio de Janeiro. I'm here for a week, and it turns out that living like a king is actually quite pleasant.
There's the view of course, and the spacious apartment — I'm in the guestroom upstairs, with the Jacuzzi, the patio and the pool. There's the cook, the maid and the driver, and the squadron of personal assistants. There's Joe's daughter Annabella. She's 14 now, a bright, cheerful girl who speaks Portuguese as her native language, and is learning English at school. She was born in Rio and has lived here all her life. She is the apple of Joe's eye, and also his ace in the hole: except in extraordinary circumstances Brazilian law forbids extradition of anyone who has a Brazilian citizen as a dependent.
And there's Joe. He's 83 now, a slightly softer version of the flamboyant guy who'd step out of the limo at Harrah's in Reno with a beautiful girl on each arm, drawing every eye. He is retired, living on the income from his real estate investments (he says he spends $25,000 a month to maintain his lifestyle),
most of them in Rio. He has nothing to do with prostitution here, and he has given up political control of Storey County.
He had a heart attack about six months ago, and has a pacemaker now. But he's still got a sparkle in his eye and a beautiful young protégée to go along with it. Her name is
Lucivana, and he met her in the Matto Grosso, when she was 17. He was staying at a resort, and she was a girl of the nearby village. He paid court to her, sent gifts to her family, but kept a proper distance until she was 18.
By then it was her decision to make, and she decided to allow him to improve her life while she improves his. So Joe has the company of the most beautiful girl in Brazil, she has an apartment in the Copacabana district of Rio and he is sending her to college.
We went out on the town a couple of times, once to a favorite restaurant of Joe's in the heart of the city, and once to the Jockey Club at the Hipódromo (race track, for you English speakers). One day we stopped by the bank so Joe could do some business while Lucivana went shopping. We were in the car waiting for the women to finish their shopping when a couple of policemen pulled their cruiser over and walked over to the car with big smiles. "These guys are my friends," Joe says, and got out to greet them. His handshake contains a banknote, and there is an animated and jovial conversation. "It's amazing what a little money can do," Joe says afterward. "Those guys would do anything to help me." Such as helping find a parking place, perhaps; Rio de Janeiro is a beautiful, cosmopolitan city in a magnificent setting, but so crowded with people and so supercharged with traffic (gasoline costs less than $1.50 a gallon here) that its charms aren't as evident as they once were.
Joe is a generous and attentive host, in and out of the kitchen while meals are being prepared, making sure the eggs are cooked to your liking, selecting the pineapple to be peeled and sliced, showing you how to put olive oil on the haddock, asking if you want toast, and if you do, how many slices. He is coaxing you to try the sliced mangos, the fresh figs, the peeled and diced tomatoes.
Around the apartment he is generally dressed in black silk pajamas, and the most startling sight of my visit was to see him one morning throwing a football across the living room to Rosa Angela, one of his personal assistants. She is an attractive blonde, and it was a delightfully surreal experience watching her receive Joe's softly thrown passes and then lob the ball back to him. He does this as a therapeutic exercise in the aftermath of his heart attack, and even though he doesn't run routes or go deep, he still throws a tight spiral.
I'm here to put the finishing touches on Joe's life story. It's the adventurous tale of a poor immigrant boy who came to America to seek his fortune. By pluck and luck he became the millionaire owner of the Mustang Ranch and a hero to everyone who ever dreamed of defying the odds, bucking the system, and getting away clean with the swag.
It's a great Nevada story, and as I prepare it for publication I'll link some excerpts from the NevadaGram from time to time, like this one. (Note to Nevada politicians who did Joe's bidding and never got caught: don't worry, he doesn't name names)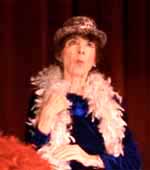 Marta Becket's unexpected illness in May meant postponing our southern Nevada excursion until the fall, and prompted this note from a Reno reader: Several years ago my wife and I went down southern Nevada — to Beatty, Death Valley, Pahrump and, with reservations made ahead of time, to Death Valley Junction for a Marta Becket performance. Oddly enough, on Saturday of the
performance we learned from one of the volunteers at the Bottle House in Ryolite that her long-time friend and associate, Tom, had died earlier that week. We decided to drive to the opera house on the chance that the Saturday show might just go on (believing the Marta is a true show business denison). When we got to the counter inside the OH, we were greeted by the woman who, in fact, was selling tickets for the evening's performance. Turned out, she was Tom's daughter, toughing out the loss of her father but, along with Marta, willing to give it a go that night.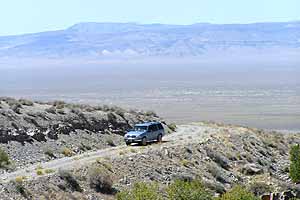 Last month's report on our jaunt to Elko and Tuscarora has prompted a spate of inquiries about joining future such excursions. The answer is simple: all you have to do is show up. There's no cost to participate, and all activities are optional, so it's only as expensive as you want it to be. Future excursions are announced at least a month ahead in the NevadaGram, and are posted in advance on the Nevada Traveler group page on Facebook. I try to pick destinations that are intrinsically interesting, and to visit them when there is a particularly enjoyable event or activity. If you want to explore and experience Nevada in company with agreeable and interesting people, please join us.
We got our tickets, headed down to Symphony's Restaurant at the Pahrump winery for a late lunch and came back to join a full house of well wishers and friends from the region in watching Marta perform both her and Tom's roles — a stunning one-woman show — she, occasionally on point.
A Sacramento reader writes about his visit to Pine Grove, a mining remnant in the Pine Nut Range a about 20 miles south of Yerington.
Established in 1866, Pine Grove stretched for almost a mile and grew to about 600 people in the early 1870s. Its three main neighborhoods were joined by scatters of tents, lean-tos and cabins. There was a school, a newspaper, three hotels, five saloons and a variety of other enterprises, including two doctors. The town declined in the 1880s, and was a ghost by the end of the 1890s. Activity resumed briefly in the 1960s, but Pine Grove is again surrounded by silence, only occasionally interrupted by guitarumming soloists yodeling "In The Pines":
Pine Grove was a great time, even if it was short lived for me (I could only go for one night). I was out of Sacramento by 5:00 am
on Friday and had a wonderful, quiet, and scenic drive up HWY 50, down 89 and across 208. Gorgeous! The Smith valley is quite stunning. Stopped at the Buckboard General Store in Smith for a Tri Tip sandwich to enjoy once I got there. Enjoyed the stretch along the river on 208 a lot, and soon after felt that refreshing feeling to be on Nevada dirt roads once again. I love that contrast from having been in Europe recently for three weeks to driving alone down those long empty stretches of road with beautiful hills in the distance and that rich blue enormous sky. Makes one appreciate each, more.
The trail up to Pine Grove should only take about twenty minutes but I kept stopping to take pictures of wildflowers, everywhere, varied, and colorful. I was the first one to arrive, so after a little scouting and checking things out I settled on our group spot and built a temporary fire ring and unloaded supplies.
The old building that seems like it must have been a schoolhouse was home base. I ate the delicious sandwich and popped open an obscure Trappist Monk Belgian beer I had brought back from our European trip, picked up the guitar and sang and played for an hour and a half. I felt compelled to sing that old standard, In The Pines, more than once. Then Guphy and her friend showed up with a mess of dogs and we sat on the hill and took in the view while the mutts went crazy sniffing everything. Soon after more friends showed up, I made a casserole in the dutch oven, and we all settled in with conversation and beers. We capped the night with a nice walk up the hill to look at the other buildings by lantern light, came back, sat around the fire shooting the breeze and then off to bed. Next morning we had a hearty breakfast and I hit the road. Uneventful on the way back.
Quick notes from beyond the mountains:
In this age of desperately struggling and dying newspapers, it's reassuring to note that There are now two newspapers in Virginia City, the Comstock Chronicle and the Virginia City News. When we resurrected the Gold Hill NEWS in 1974 there werediv style="float:right;">